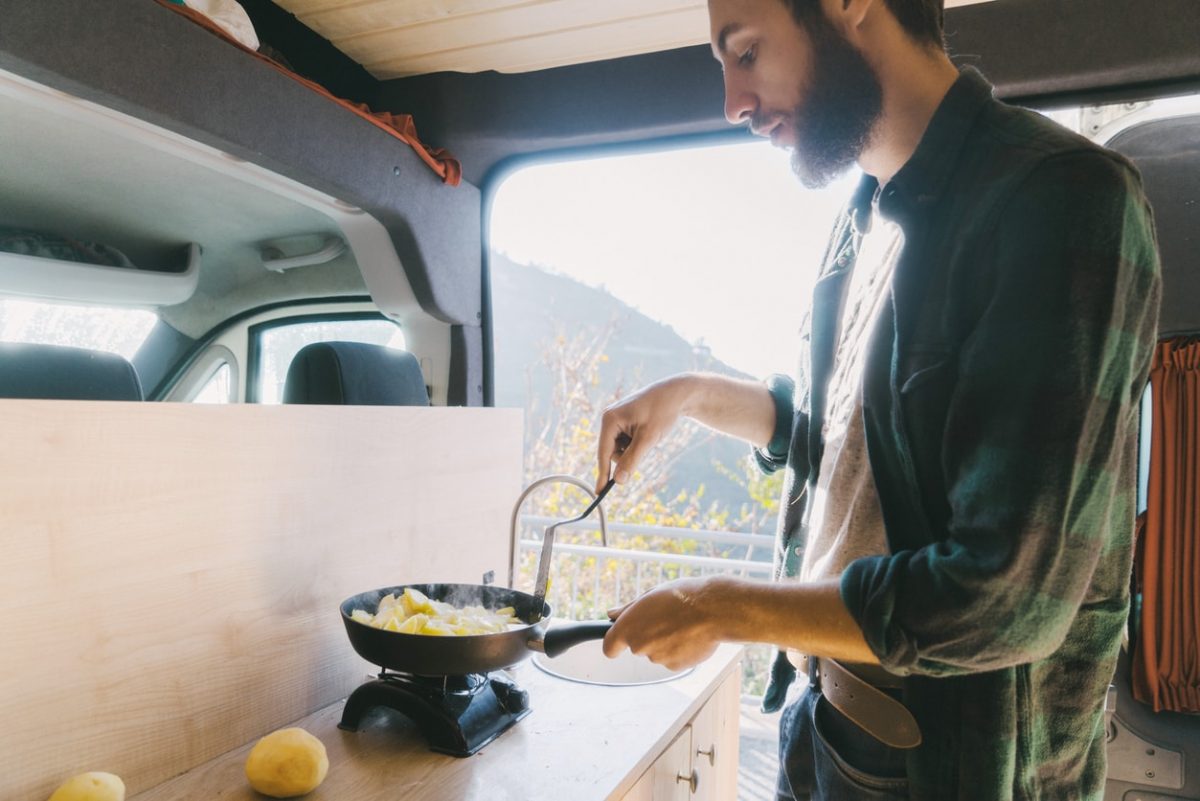 If you're planning on taking your RV out for more than just a day trip, it's no doubt that you're going to want to cook at some point. But keep in mind that fire damage is one of the leading causes of RV loss in the country, with about 20,000 fires occurring annually, according to data from the National Fire Protection Association (NFPA). Starting a fire in such a small, enclosed space can get disastrous fast if you don't know what you're doing.
Fire isn't the only danger behind cooking in an RV, however. Just like when you're in your house, RV cooking apparatuses can emit certain chemicals that can be lethal while inhaled. On top of that, food scents can often bring unwanted animal visitors around your campsite.
As an RV owner, it's important to the health and safety of everyone traveling that whoever is going to cook knows how to do it safely. If you need some extra tidbits on how to truly get the  most out of your RV, check out these tips below before hitting the road.
Reduce Any Potential Food Smell
If you're using your RV in a place known for big animals like bears and wolves, it's going to be a great idea to prepare for the worst case scenario. Backpacker has this advice for when you're camping in states like Alaska, where wild game is rampant, as well as the predators that hunt them.
Any food items must be left inside, including trash, utensils, food and other odor-emitting products. Food needs to be properly contained, stored and hidden away from plain sight. Keeping windows, doors and vents closed when you're not around will help keep any smells inside.
Know the Rules About Using Grills, Appliances and Propane Stoves
When you're cooking, you're going to have to use something to make your food. RVshare has some tips for those trying to use grills, aftermarket appliances and propane stoves while camping out of your RV.
As far as gas and charcoal grills go, they are a big no-no inside an RV while camping. The gases they emit, such as carbon monoxide, are incredibly toxic and can be lethal quickly. But if it's an electric countertop grill, you'll be safe. Propane stoves are also going to generally be what you find in an RV.
Aftermarket appliances work just fine in an RV. However, the wear and tear that comes with the constant bumping of the road might be a little much for your typical coffee maker or blender. Check everything for the Recreational Vehicle Industry Association standards and approval.
Be Prepared for Fires and Emissions
The final safety tip has to do with fires, both inside and outside the RV. When it comes time to exit your vehicle and start a campfire, always make sure that a fire is never built right next to an RV. If there's any wind, your RV could catch fire fast. All it takes is a couple embers flying out of the fire.
When getting your RV Insurance quote, the agent will probably remind you to keep fire safety equipment on board. A fire safety kit is essential, just like the multiple fire extinguishers that should be in different parts of the RV. Don't forget to make sure there's a smoke detector and a carbon monoxide detector available as well.
About Transparity Insurance Services
Transparity Insurance Services was founded for the purpose of helping clients to ensure their property and assets with no hassle. We are committed to providing a simple, easy, efficient, and positive experience to all of our clients, and prioritize open and transparent communication with our clients. Through our excellent customer service and technology, we can help you to find the right insurance program at a competitive price. Contact us today at (855) 889-2037 to learn more about what we can do for you.