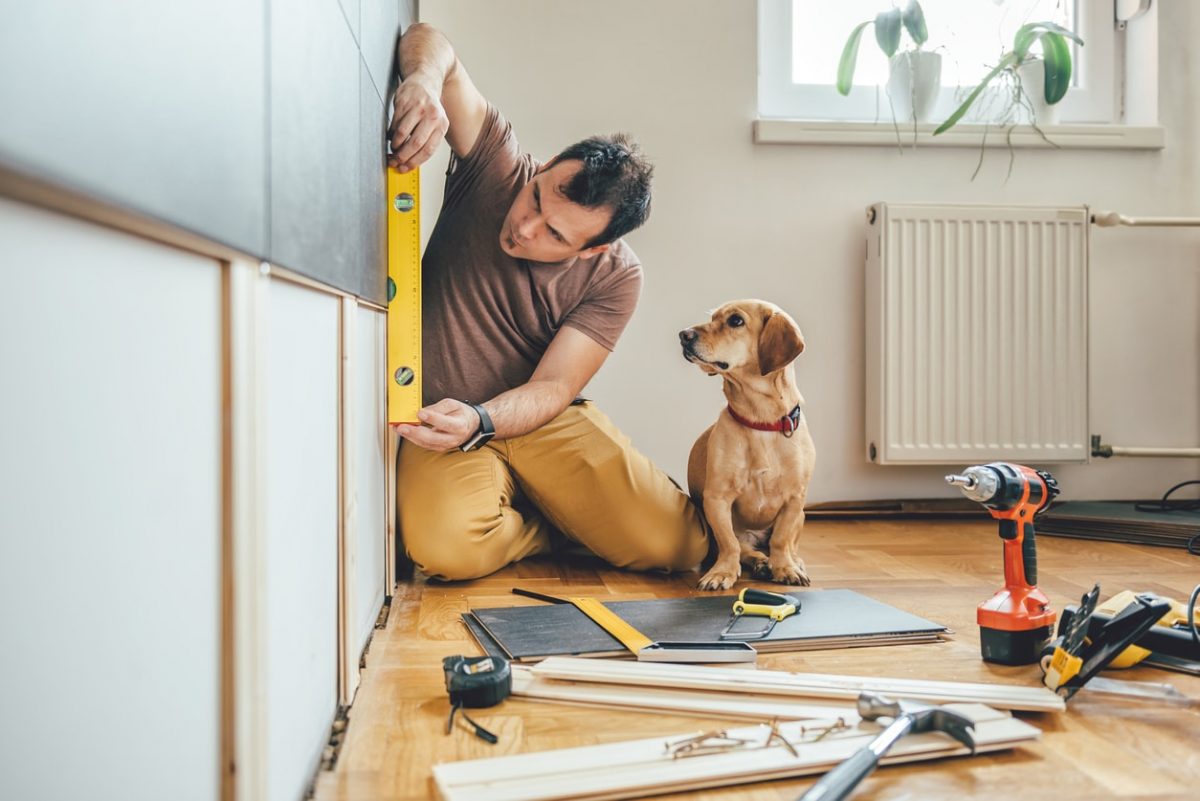 In a recent study, about 57 percent of homeowners stated that they feel that their house is still a work in progress. In addition, over 32 percent of homeowners surveyed had some kind of DIY (do-it-yourself) project that they wanted to complete. While DIY is definitely not impossible to do on your own, there's some things that should just be left to the professionals. But how do you know when to break out your tools and when to break out the phone book?
The payoff for fixing up your home is massive, but if you do something the wrong way, it's going to cost even more to fix your mistake. On the other hand, putting in valued time and money to update your home can actually be highly beneficial. It's all about knowing your abilities and making smart renovations.
Since fixing up your home can actually raise the value of it and lower your homeowners insurance premium, think of it as a long-term investment. Once you've purchased a home, it makes complete sense to spend a little in order to upkeep it.
If you're thinking about upgrading your home, here's some tips; this is when you can DIY and when you should call a professional, courtesy of Curbed.
Always Conduct a Game Plan With a Professional
Once you're ready to start diving into fixing the house, it's important to consult professionals first. You're going to need to know exactly what you need, how much of it and how it's going to get there. Talking about costs and timeframes will help make a tentative map of when everything will get done. Sure, it can be done without help. But getting help means its done quickly and efficiently.
Get Your DIY Materials First
After you find out what you need and how much of it, it's time to start purchasing materials, equipment and appliances that have become a staple in home improvement. This can be done without a professional's help. And everything doesn't have to be purchased from big businesses; antique stores and flea markets often have hidden gems around, making things far more fun and interesting.
Structural Repairs Are For Professionals Only
Unless you're a construction worker who builds homes, it might be best to leave any structural damage done to the experts. Older homes are going to have far more wear and tear, which is something that most will have to deal with in their lifetime. So if there's some kind of underlying problem that involves structural repairs, having homeowners insurance will make sure that a third-party vendor is protected when needed.
Light Demolition Doesn't Need a Helping Hand
No one should be doing any major demolition to their home. But light work is okay. For example: taking down unsavory cabinets and fixtures is okay, just don't try to take out a whole wall. The end result could be disastrous. In fact, any cosmetic work can also be done DIY.
When Else Do You Absolutely Need to Go Pro?
There are a few other things that should be left to the professionals. This includes dealing with the likes of asbestos; down to gas, electricity and plumbing. Considering asbestos is highly toxic, getting professional help can be crucial. Gas, electricity and plumbing are also very delicate to tinker with.
The right renovations can boost your home's value and lower the cost of your homeowners insurance premiums. However, do it wrong and you'll find yourself in a worse position than when you started. Always consult a professional and do your research prior to any home improvement efforts, and always protect your home with Homeowners Insurance, just in case the worst does happen. Happy renovating!
About Transparity Insurance Services
Transparity Insurance Services was founded for the purpose of helping clients to ensure their property and assets with no hassle. We are committed to providing a simple, easy, efficient, and positive experience to all of our clients, and prioritize open and transparent communication with our clients. Through our excellent customer service and technology, we can help you to find the right insurance program at a competitive price. Contact us today at (855) 889-2037 to learn more about what we can do for you.